Melangit River Rafting is one of the most famous Bali River Rafting Packages offer exciting white water rafting experience for your memorable holiday in Bali island. The length of Melangit river rafting trips is 7,5 kilometers and it will take 1.5 hour rafting from start point to finish point. The river white water rafting Bali classified as grade II – III white water river rafting rapids class, also offer rain forest scenery with twist and turn on every part of the river, offer very sharp bend that will pump your adrenalin. For adventures will love this river also step gradient on certain part of the river that create one to four meters river water fall.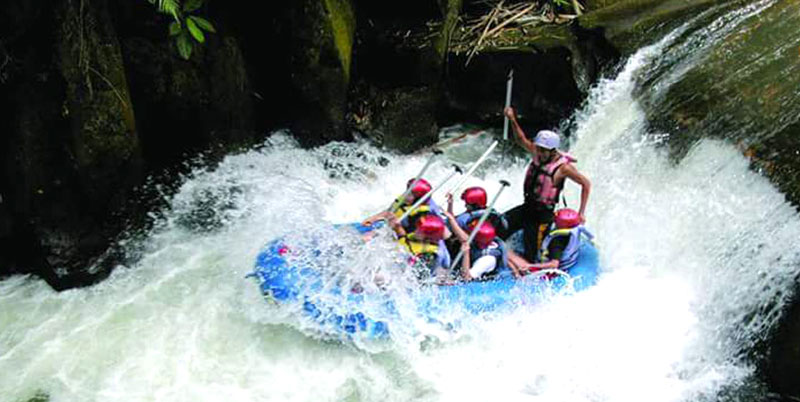 Melangit River Rafting activity is the most challenging river for white water rafting in Bali, the river is less polluted and the green scenery still well-preserved and the air still fresh because is far away from city. So if you searching for more adventures and challenging river, fresh air, less polluted water and well-preserved green environment, than you should do rafting Bali on this river. After you complete the registration, your river guide will escort you to the riverbank. Before the rafting trip begins, you will be brief by professional river guide about rafting procedure.
You will be providing a helmet, life jacket and paddle, the durations of the rafting trips with break is about 90 minutes depending on how hard you paddle. Than you need to walk back from finish point to car park, from car park a vehicle will be ready to escort you back to starting point so you can have a shower and have your lunch that include on the packages.
Melangit River Rafting Price and Inclusion :
MELANGIT RIVER RAFTING
Price :
• Adult : IDR 350,000 (13 - 60 Years Old)
• Children : IDR 300,000 (6 - 12 Years Old)
• Family Packages : IDR 1,200,000 (2 Adult and 2 Children)
• Price are quoted per person for minimum booking is 2 person
• For afternoon trip minimum booking is 4 person
Price Include :
• Air-Conditioned Return Hotel Transfer
• Coffee or Tea on Arrival
• Safety Approved Rafting Equipment
• Professional River Rafting Guide
• Use of Towels and Shower Facilities
• Changing Room and Toilet Facilities
• Locker
• Water Resistant Bag
• Buffet Lunch and Mineral Water
• Insurance Coverage
• 21% Service Charge and Government Tax

What to Bring :
• Rafting Outfit IT-Shirt or Swimsuit
• Short Pants and River Sandals
• Sunscreen is Recommended
• New Clothes for Change After Rafting
• Plastic Bag to Wrap Your Wet Clothes

Remarks :
• Get special price for a group booking
• If you would like to bring your valuable item, don't worry, you may ask your rafting guide to bring it for you and they will keep your valuable item on water-resistant protective bag. At the finish point, the staff there will display your pictures during your rafting trips, which is taken per boat that you use, if you would like to buy your pictures, please ask your river rafting guide.
• Melangit River Rafting is not suitable for pregnant women, people with heart problem, people is respiratory problem, currently has a sinus problem, recently has ear infection, has claustrophobia problem.

Morning Trip Pick Up Time :
• Nusa Dua and Jimbaran : 08.30 – 08.45 AM
• Kuta, Seminyak, Legian : 08.30 – 08.45 AM
• Canggu : 08.30 – 08.45 AM
• Sanur : 08.30 – 08.45 AM
• Ubud : 08.30 – 08.45 AM

Afternoon Trip Pick Up Time :
• Nusa Dua and Jimbaran : 12.00 – 12.15 PM
• Kuta, Seminyak, Legian : 12.00 – 12.15 PM
• Canggu : 12.00 – 12.15 PM
• Sanur : 12.00 – 12.15 PM
• Ubud : 12.00 – 12.15 PM
How To Book :
THE BOOKING PROCESS :
• Complete The Booking Form to send your request
• Discussion, we answer all your questions regarding your inquiry
• Confirmation, we send the booking confirmation to you by email when all clear
• No booking fee, no deposit require from the activities that you requested
• Payments, for the activity you may pay upon arrival at rafting location by cash or credit card
PRIVACY POLICY :
• Your reservation is absolutely secure, all personal data is encrypted and will be processed in a secure way. Bali Sky Tour takes the privacy of your personal data very seriously. Your personal information will only be used to process your booking.
Booking Form
Please complete the form below for general inquiries of your tour or activity